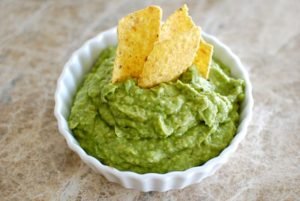 Ingredients
3 avocados
1 lime (juice and pulp)
1 tsp kosher or sea salt
1 tsp minced garlic
1/2 cup diced onion
3 tbsp chopped fresh cilantro
2 roma (plum) tomatoes, diced
1 dash ground cayenne pepper (optional)
1 tbsp (heaping) Moringa Powder

Instructions

Mix Avocados, salt and lime juice with pulp in a bowl.
Mix in cilantro, garlic, onions and tomatoes.
Mix in Moringa
Add cayenne pepper (optional)
Chill in refrigerator for 60 minutes and enjoy!
Use as a dip or a spread! Great on crackers, toast, tortilla chips or pita!